Five College Global Game Jam
Spring 2015

When: 6pm Friday, January 23, 2015
Where: Adele Simmons Hall, Room 126, Hampshire College
What: 24 hours of game making fun (ends 6pm Saturday)
Who: Anyone with an interest in making games, especially if you have some programming, art, audio, or game design skills.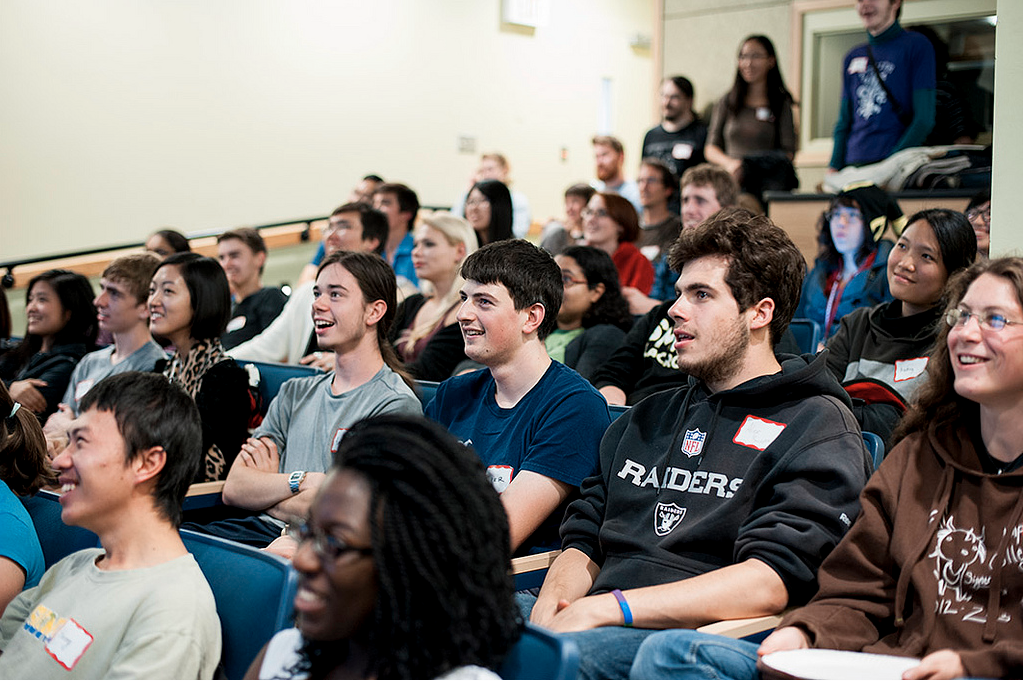 Five College Game Jam, Hampshire College, Fall 2013
To participate, please do the following:
1) Please complete this registration survey. Registration is free and it will help us know how much food to provide.

2) Create a free global game jam account and list Hampshire College (United States, Massachusetts, Amherst) as your jam site.

3) (Optional) Like our Facebook page and spread the word!
Schedule of Events
| | |
| --- | --- |
| 5:30pm Friday | Attendees begin to arrive |
| 6pm Friday | Jam officially starts! Keynote video and reveal secret theme |
| 6:30pm Friday | Idea generation and brainstorming |
| 7pm Friday | Game pitches and team formation |
| 2pm Saturday | Playtest session for all games |
| 5:30pm Saturday | Upload final games |
| 6pm Saturday | Final demos |
Frequently Asked Questions
Q: Do I need a team to participate?
A: No! Teams will be formed during the game jam.

Q: Do I need skills to participate?
A: It's best if you have some skills in either art, programming, audio, or game design, but everyone is welcome.

Q: What if I already have a game idea?
A: You can make any game you want, but the Global Game Jam has a secret theme that is announced at 5pm Friday. It's often a fun and rewarding design challenge to consider the theme.

Q: What if I want to make a board game instead of a digital game?
A: Non-digital games are perfectly acceptable. We'll have some supplies available.

Q: Do I need to register on globalgamejam.org to participate?
A: Yes! Everyone must register, and registration is free:
http://globalgamejam.org/user/register
List Hampshire College as your Jam Site.

Q: What if my question isn't answered here?
A: E-mail the Game Jam Organizers.

Before the end of the Jam, please do the following:
1) Upload your final game to the Global Game Jam site.
2) Please complete this final survey.

Useful Links
Huge list of game jam resources (art, audio, programming, etc.), courtesy of the Global Game Jam
Hampshire IP policy draft

If you have any questions, please email us!


Previous Game Jams
Fall 2014, Hampshire College, 5 hours
Spring 2014, Mount Holyoke College, 24 hours
Fall 2013, Hampshire College, 24 hours

Thank you very much to our generous sponsors!